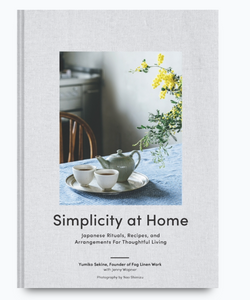 Simplicity at Home
$4500

$45.00
Tax included.
---
---
A gorgeous guide to creating a beautiful, comfortable home based on Japanese traditions from the founder of the beloved lifestyle brand Fog Linen Work.
For anyone who dreams of a home filled with well-organized closets, eye-catching flower arrangements, perfectly draped blankets, and thoughtfully curated shelves, here is a guide to cultivating an elegant home.
Yumiko Sekine, founder of the internationally celebrated lifestyle brand Fog Linen Work, shares lovely rituals and simple techniques based on Japanese traditions, including practices for decorating, organizing, preparing food, and more. From the kitchen to the bedroom and every space in between, here are tips for refreshing a home each season—arranging and displaying fresh flowers in spring, choosing the right sheets and linens for summer, taking warm herbal baths in autumn, and draping blankets and layering rugs to cozy up a space for winter. Brimming with easy-to-follow tips for elevating any space and packed with hundreds of photographs showcasing gorgeous interiors, this book is an invitation to create a home that nourishes, rejuvenates, and inspires—all year long.