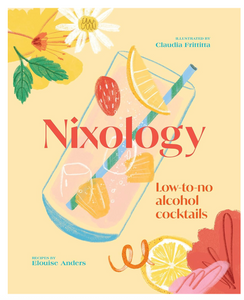 Nixology | Low-to-No Alcohol Cocktails
$3000

$30.00
Tax included.
---
---
For anyone looking to drink less, to leave alcohol permanently on the shelf, or to wake up a little less hung over on Sunday, shake and stir up your next party with Nixology.
Full of classics like the Martini, Negroni, and Cosmo, Nixology is full of recipes that are full of flavor instead alcohol. Whip up single cocktails, batches to share, or low-ABV drinks for a tiny buzz.
Whether it's a sunny afternoon, a dinner with friends, a big bash, or a quiet night in, Nixology has the perfect drink to sip.