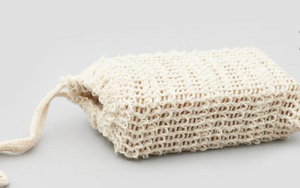 Exfoliating Soap Bag
The exfoliating soap saving bag is made from woven loofah plant fibres. The bag turns your ordinary soap into a gentle exfoliating tool whilst extending the amount you use on your body and limiting the amount that gets washed down the drain. 
The loofah plant is a tropical vine that is commonly grown in temperate regions. As the loofah plant is a vegetable, the soap saver bag is totally biodegradable and compostable. The exfoliating soap bag is package free to prevent any wastage!
HOW TO USE:
Its as easy as 1-2-3. Simply place your soap inside the sack, rinse with water and lather up! Using gentle circular motions will help increase blood flow and exfoliation. To extend the lifespan of your soap saver bag, hang from the draw string to dry when not in use.